Terengganu Forestry Training Center
Background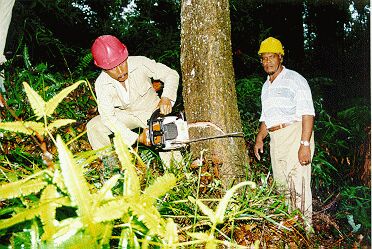 The Terengganu Forestry Training Center (TFTC) was established in 1973 on an eight hectare site in Kampung Teris, Hulu terengganu and located approximately 50 kilometers from Kuala Terengganu. The State Government of Terengganu have allocated 6,338 hectares in Bukit Kesing Forest Reserve and Ulu Setiu Forest Reserve for forestry training purposes.
The main objective for the setting up of the TFTC is to train interested youth, specially amongst Bumiputeras, in logging techniques to cater for the skilled workers market in line with the New Economic Policy of the government.
In keeping with current development in the Forestry Sector, the Forestry Department Peninsular Malaysia (FDPM) had developed the Human Resources Development for Programme 1995 - 2005. In this context, the TFTC would conduct certificate courses in logging techniques and related subjects to ensure FDPM's goal of implementing the Sustained Yield Forest Management concept in achieved.
Courses Offered

The TFTC conducts seven types of courses annually and are as follows;

1. Forest Mensuration
Courses Content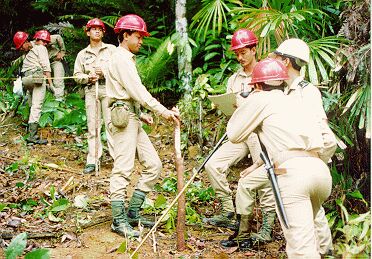 Introduction to the Forestry Sector.
Principles of forest mensuration, mathematics and trigonometry.
Principles and procedures of mesurements and its tools, as well as scales and its tools.
Measurements of diameter, girt and heigh of standing trees and calculation of tree volumes.
Measurements of logs, log-holes, poles and use of volume tables.
Duration
2. Preparation of Stock Map for Forest Harvesting
Course content
Introduction to Forestry in Malaysia, its challenges and current issues.
Rules of tree marking.
Rules of mother trees selection.
Concept and rules of stock map.
Types of stock maps and relevent forms.
Preparation of tree marking report.
Duration
3. Operation of Heavy Machinery
Course Content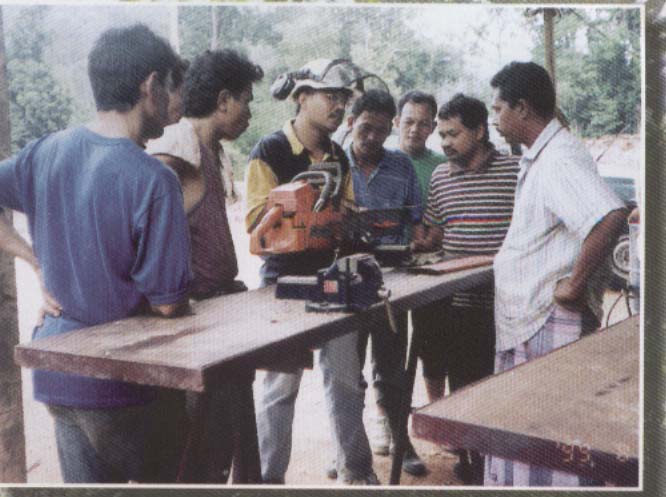 Introduction and functions of heavy machinery parts.
Rules of machinery operations (practical).
Rules of inspection and maintainence of machinery.
Safety procedures and hand signals.
Machines specifications and record keeping for operational purposes.
Duration
3 days (3 times annually).
4. Post-felling Inventory
Course Content
Development of the Forestry Sector and its current issues.
Aims and objectives of Post Felling Inventory and its implementation in accordance with MS ISO 9002.
Forest mensuration, map reading, scales and slope corrections.
The conduct of inventory (practical).
Inspection of inventory done by contractors.
Duration
5. Forest Harvesting Plan
Course content
Current developments of the forestry sector.
Implementation of the MC & I and criterias to be observed in forest logging operations.
datas and information required in the preparation of the Forest Haevesting Plan.
Preparation of the Forest Harvesting Plan.
Duration
6. Forest Road Spesifications for Contractors
Course Content
Drainage system, culvert and bridge construction.
Geometrics of forest roads.
Rules of contruction and maintenence of infrastructure.
Survey works.
Test
Duration
4 days (3 times annually).
7. Directional Felling Techniques
Course Content
Current development in the Forestry Sector.
MC & I criterias relating to forest harvesting.
Directional felling techniques.
Directional felling operations (practical).
Safety rules.
Maintainence of chain saws and tools.
Duration
3 days (25 times annually).
Conditions required to attend course
Candidates should have the followings:
Malaysian citizen.
Age 18 and above.
In good health.

Note: Preference will be given to sponsored applicants.
Course Fee
A fee will be imposed based on the type of course attended. The rate of fee to be paid would be announced from time to time.

Hostel
The TFTC is residential institution providing dormitory facilities to all course participants. It is condition tahat all participants stay at TFTC while attending the course.
Participant's Well-Being
Medical facilities for participants and staff of TFTC are provided and available at Tengkawang Health Centre, about two kilometers from the TFTC.
Course Certificate
Certificates will be issued to all participants that have completed the course and passed the examination or test as specified for the course.
Application Form
Application forms to attend any of the seven courses stated above could be obtained from:
The Principal,
Terengganu Forestry Training Centre,
P.O. Box 4,
21700 Kuala Berang,
TERENGGANU.



Tel No. : 09-6661792
Fax No. : 09-6661795
E-Mail : plptjpsm@tm.net.my
List of Present and Former Principals of TFTC:
Mr. Amir bin Idris (1978 - 1980)
Mr. Salim bin Ali (1981 - 1983)
Mr. Abdul Hamid bin Din (1984 - 1985)
Mr. Ibrahim bin Ismail (1986 - 1990)
Mr. Ismail bin Talib (1991 - 1993)
Mr. Ng Hoe Tat (1994 - 1998)
Mr. Mohd. Suhaimi bin Mohd. Kurdi (1999 - 2002)
Mr. Mohd. Radhi Chu bin Abdullah (Beginning January, 2003)

Training Programmes At Terengganu Forestry Training Center Year 2003
No.

Course

Date

1.

Directional Felling Instructor's Course for Grade G27 Officers

22 - 30 Nov.,
and 07 - 31 Dec., 2003

2.

Directional Felling Techniques Course

26 - 30 Jan.,
23 - 27 Mac,
06 - 17 April,
04 - 29 May,
08 - 26 June,
06 - 10 July,
24 - 28 Aug.,
07 - 18 Sept.,
05 - 30 Oct.,
and 09 - 13 Nov., 2003

3.

Heavy Machinery Operational Course

21 - 23 July,
04 - 06 Aug.,
and 22 - 24 Sept., 2003

4.

Basic Mapping and Land Survey Course

20 - 24 April,
and 19 - 23 Oct., 2003

5.

Forest Mensuration Course

09 - 13 Mac,
and 05 - 09 Oct., 2003

6.

Preparation of Logging Stock Map Course

05 - 07 May,
and 25 - 27 Aug., 2003

7.

Tree Marking Course

06 - 18 June,
and 18 - 20 Aug., 2003

8.

Forest Roads Course

07 - 09 April,
14 - 16 July,
and 01 - 03 Sept., 2003

9.

Pre-Felling Inventory Course

23 - 27 Feb.,
and 18 - 22 May, 2003

10.

Post-Felling Inventory Course

09 - 13 Mac,
and 14 - 18 Sept., 2003

11.

Chain Saws Maintenence Course

09 - 13 Mac,
and 14 - 18 Sept., 2003

| Main Page | History | Mission and Objectives | Client's Charter
| Kepong Forestry School | Examinations | In-Service Training
| Terengganu Forestry Training Center | Facilities | E-Mail |